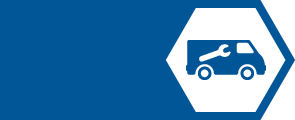 We are aware that during busy times you wish to operate at as high a level of production as possible and any standstill is annoying. For this reason, our team of service technicians is available to help you! Our technicians live in locations throughout the whole country so there is always a technician in your area who can be on site within a short time. In addition, we try to plan for the same technician as much as possible so that he is very familiar with your company and your machines.
Our service vans are equipped with all the tools and parts which are necessary to solve a malfunction on site. Since each technician has his own van, he knows exactly where everything is and he will replenish parts as soon as they have nearly run out. This gives you the guarantee that when we call we can solve the malfunction immediately.
Thanks to the short lines between our support employees and service employees, they often know immediately how the malfunction should be solved. As a result, we minimize the time that your working activities are at a standstill.
Our local dealers offer you…